How to Fix BKF File Error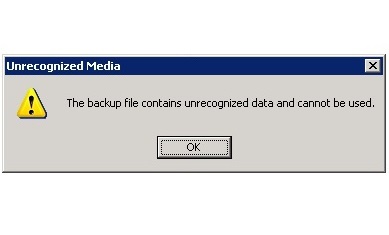 Getting Confused What to Do?
Your inquisitiveness, curiosity, hunger for knowledge, and interest to get into the depth of your problem, its causes, its aftereffects, its indications and its resolution will be satisfied here at this page where we get into the details of the following:
What might have caused your BKF file to get corrupted?
Errors you encounter after corruption
Process of repairing the corrupted files and for extracting data out of them
Some useful details about our BKF repair tool



What might have caused your BKF file to get corrupted?
There is no particular reason responsible for this annoying BKF corruption. Rather, there are several reasons responsible for such damage caused to your crucial files. You can face the problem either due to physical corruption or logical corruption. Some of the most common reasons responsible for backup data damage are given below:
Improper system shutdown
Virus infected BKF files
Trojan infection
CRC error problem
System software failure
Hard drive corruption
Backup interruption
Malfunctioning of Windows backup software
Corruption of Windows file system transaction log
Errors you encounter after corruption
You might see error messages flashing on your screen as you attempt to open some corrupted backup file. Some common errors that you might encounter are mentioned below:
830079 – The system state option is not available in the NTBackup utility
828693 – Computer Stops Responding (Hangs) When It Writes Encrypted Data to an NTFS Partition
825110 – You cannot start from a virtual hard disk that is linked to a physical drive
822132 – "The Backup Completed, but Some Files Were Skipped" Message When You Try to Back up the System State Files on a Windows Server 2003 Domain Controller
821730 – NTBackup Does Not Run As Expected When You Run It from a Command Prompt
821588 – You Receive an Error Message If You Use Backup in Windows 2000 or Windows XP to Catalog or Restore a Tape Made in Windows Server 2003
821181 – Backup Operators Group Cannot Perform a System State Backup of a Windows 2000 Cluster
820272 – Backup Operation Fails When You Back Up Exchange Server 2003 Databases and System State Information at the Same Time
817790 – Error Message When You Try to Run Ntbackup.exe
817765 – Windows Backup Utility Does Not Succeed When You Use a USB Tape Drive
815767 – "Import Media Present" Dialog Box Appears in Windows Backup After You Select the "Always Move New Import Media to the Backup Media Pool" Check Box
815140 – "Unknown Error" Error Message When You Create a Backup Over Your Network
814594 – How to Locate and Correct Disk Space Problems on NTFS Volumes
814583 – HOW TO: Use Command Line Parameters with the Ntbackup Command in Windows Server 2003
813545 – You Are Prompted to Reinsert the Same Disk or Tape During Backup Verification
811621 – Cannot Restore Backup Media That Is Created by a Backup Operator
810372 – Errors in the Terminal Services Window after Applying Update 328774
810161 – Network Adapters Are Missing or Incorrect in Device Manager After You Run NTBackup to Restore System State Data.


Process to Fix Backup Error and Extract Data Out of Them
Due to any of the above mentioned reasons or any other such reason, if your backup data files have got corrupted, then you can use our BKF file repair software to extract the data from those corrupted files. Our software will help you perform quick and rapid backup data recovery process. Our software surpasses other tools in the domain that might take long hours to recover your data.
Some useful details about our BKF repair tool
Can recover data from bulk of BKF files (file size limit more than 400GB)
Before saving the recovered contents files, you can preview them
Quick Scan features helps to quickly recovering backup data
Deep Scan helps in the case of heavily corrupted files
BKF data can be recovered in case of CRC errors also
Metadata of recovered files can be maintained
File search option helps to search from the recovered files what data you want to fix BKF error
Range Based Scan feature helps in the case of large sized BKF files, where you can do a range based scan to recover only some specific amount of data and not the whole bulky BKF file
Software supports all Windows versions (98, Me, 2000, XP, 2003, Vista, and Windows 7 & 8)