Outlook .pst to Lotus Notes .nsf Conversion with High Quality Tool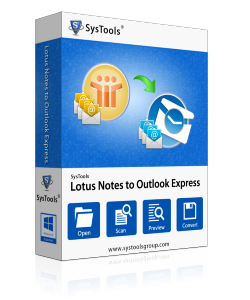 Outlook to Notes software is specially designed to perform .pst to Lotus Notes conversion process with all the Meta data retained. The software carries all the essential qualities needed for a quality product like –
Data retention guaranteed while converting PST data to NSF format
Extreme speed and perfection exhibited while process of export folders from Outlook to Lotus Notes is carried out
Free demo available before going for full swing conversion process to configure Microsoft Outlook in Lotus
Economical and easy to use

The software Outlook to Notes comes up with the qualities that is unique and valuable, along with the general features needed for a quality tool, like –
Tool helps to convert orphan as well as configured PST files to NSF format
Outlook .pst to Lotus Notes .nsf conversion helps in accessing the data that were used in Outlook for a long time
After Outlook data file transfer to Lotus Notes format, contents from PST file now converted to NSF format can be stored in the new or existing NSF files
Conversion can be done with the selected PST folders, so that before the export folders from Outlook to Lotus Notes process is carried out, user can avoid/discard the junk mails and data there itself
To configure Microsoft Outlook in Lotus it is easy to utilize the Outlook to Notes tool as the software USP is its user friendly and also economic nature.


Why Lotus Notes Over Outlook Is Considered As A Better Option?
The need of the software like Outlook to Notes will mainly comes in focus when the user decides to change the email environment from Outlook to Lotus Notes. The tendency for this conversion had risen to a big scale because of the limitations of Outlook when Lotus Notes is considered as an email client. The Notes environment is advanced and offers platform for
Web publishing
Prepare replicas
Preserves document modification log
Document sharing
Graphic, video and audio attachment in emails
All the above mentioned and many more facilities make the Lotus Notes a favorite of any small and big scale industries who were previously using Outlook. The change in email client will bring a very big difference in the whole working mode and getting the data that is in use within Outlook in PST format readable and accessible in Lotus Notes is the next issue to be solved and for that Outlook to Notes tool is very useful as it will handle the section of data conversion with reliability and easiness.
Freebie to Convert PST to NSF in Restricted Number
The PST to NSF conversion can be carried out with confidence if user is known about the process in advance. The user can get a live demo of the process in advance if he downloads the edition that is free from the download button below. Free edition is restricted from converting the data as a whole, but it can convert the 15 items from each folder and is capable enough to make the user understand the process of PST to NSF conversion.
Break the Restrictions, Purchase the Full Edition
The tool is available to perform the full working edition if you purchase the license for a nominal amount only. The restrictions with the free edition are breakable with the license and once you get the tool it become easy to convert the PST files to NSF files.